Most people know that you can tour Graceland, the home of Elvis Presley.
Are you aware there are several other places you can visit that also have some type of connection to Elvis?
Here are three examples of places to add to your road trip plans: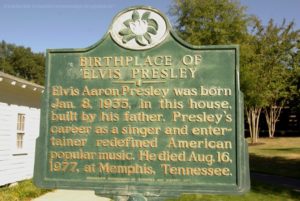 Elvis Presley Birthplace: In Tupelo, Mississippi you can visit the two room house where Elvis was born. Along with the
the 2 room house, at this site you will also find a park, childhood church, museum, memorial chapel, "Elvis at 13" statue, Walk of Life, Story Wall, Fountain of Life, and the "Memphis Bound" car.
Elvis Presley Homecoming Statue: While in Tupelo, you can also see this statue. It is on the location of the old fairgrounds where Elvis held his 1956 Homecoming Concert.
Barbershop Where Elvis Got His First G.I. Haircut: The Chaffee Barbershop Museum is located in Fort Smith, Arkansas. This is where Elvis got his first Army haircut. They have pictures of that moment hanging on the wall.
Look around the website to find more attractions with an Elvis connection.