RT 66, important part of the history of travel in the U.S.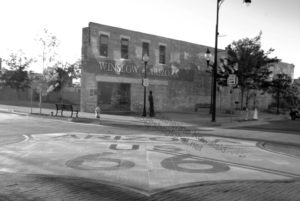 A few years ago, I had the opportunity to drive a large part of Route 66. I hope to be able to do it again very soon.
The Mother Road, as Rt 66 is also known as, opened in 1926. The 1950s seems to have been the heyday era for the road that helped to connect Chicago and the west coast in California. Unfortunately, the road eventually started being bypassed by the newer interstate system. In 1985, Route 66 was officially decommissioned.
A lot of people get on the interstate and zip right through or around the areas that this long beloved road once ran. Many towns along the old route became ghost towns; many businesses are gone.
Yes, a lot has changed; a lot has come and gone, but the love for this iconic road still lives on. People from around the world continue to fly to the United States just to be able to drive Route 66.
While parts of the road & many of the old time businesses no longer exist, there are still many of the old Rt 66 motels, restaurants, and quirky road side attractions open for business.
Examples of Rt 66 attractions: Snow Cap, Blue Whale, Jack Rabbit Trading Post
Currently, along with a few other unrelated projects, I am trying to work on a list of old time attractions and businesses that are still open. It would be amazing if I could get on the road and possibly photograph as much as possibly, also.
Even though many long loved motels, restaurants, and other roadside attractions have closed down, you can still find remnants of these places where they once stood. I would like to be able to also make a list of where remnants of these places are still there along the route.
Have you traveled Route 66? What are some of your favorite places you saw or visited? What do you think are the must see or must stay at places?
If you haven't been able to drive Rt 66 but want to, I would like to hear what has you wanting to have the experience?